GATLINBURG - GREAT SMOKY MOUNTAINS
GATLINBURG MAP: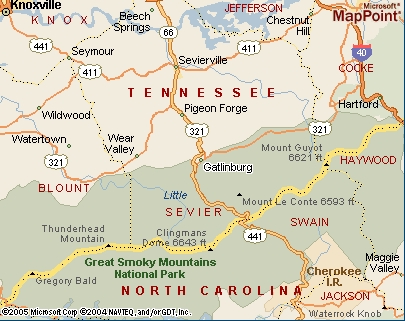 Beneath the natural beauty of Gatlinburg and the shops you'll leave with a newfound appreciation for the assemblage of fine art available in the Smokies. Additionally, the City's historic tour brochure and site markers will put you in touch with Gatlinburg history and the City's sometimes colorful past.
Gatlinburg has an array of snow skiing/boarding, ice skating, indoor miniature golf, and of course one the most visited aquarium's in the Southeast. Don't forget about doing a little Christmas shopping while in the area. Gatlinburg has some of the most unique shops for those one-of-kind gifts.
Once you have experienced all the fun and excitement that Gatlinburg has to offer, you are going to need to grab a bite to eat. Check out our wide variety of restaurants that offer country cooking, juicy steaks, or a gourmet cuisine.
Within the walking community are family attractions and things to do in Gatlinburg at nearly every turn. Enjoy downhill snow skiing, rafting Class IV whitewater, golf, hiking options from 600 miles of trails, and fishing in hundreds of miles of streams: the entertainment of the Great Smoky Mountains is both exhilarating and close by. Explore other great Gatlinburg attractions at one of it's unique museums, craftsmen fair, miniature golf courses, or motion simulators, or enjoy go karts or bumper cars, Ripley's Aquarium, haunted houses, or ride the sky lift up the mountain. Everywhere you turn, you'll find plenty of things to do in Gatlinburg, TN!*



8

904814

Jeff Bales
Exclusive
Click HERE
FOR DETAILS

NEW PRICE
OF

$

2,200,000

4 Bedrooms

+
Attached
Guest House w/

3
Bedrooms


4 Baths

+
Attached
Guest House w/

3.5 Baths


30 ACRE ESTATE/FARM on Dolly Parton Parkway (Highway 411)

FIRST TIME ON THE MARKET (Dollywood/Sevierville area)
CLICK HERE

TO VIEW AREA MAP

Call Jeff Bales today for more information. Call Toll Free 1-800-251-9640 Ext 0
OFFICE (865) 588-3232
FAX (865) 251-3232
.

*from our friends @ http://www.gatlinburg.com


INDEPENDENTLY OWNED AND OPERATED

AGENT
©© 2007 Realty Executive Associates Real Estate Corporation. All rights reserved.
Each Realty Executive Associates ® Office is Independently Owned and OPERATED.

All material, design elements, original graphics (except where noted)

©PLANETWeBDESIGN
All rights reserved.1999,2000,2001,2002,2003,2004,2005, 2006, 2007, 2008, 2009, 2010, 2008, 2009, 2010